This Week at a Glance

December 8, 2017 - December 17, 2017

Welcome to

St. John

Lutheran Church

(The Lutheran Church - Missouri Synod)

We are honored that you are visiting our web site. Being a religious organization, we are always striving to find new ways to get our message out to current and prospective members. This web site allows us to reach people we may never have been able to contact before.

Please use this site to access the information you need about the church and as a resource for broadening your faith. We look forward to hearing from you and answering any questions you might have.

A family united by faith in Christ gathering around God's Word and Sacraments. To reach out in Christ-like concern and Christ-borne love to each other and to those without Christ!

Worship Schedule

8:30 AM Sunday School & Bible Class

9:30 AM Sunday Worship Service

Traditional Worship using the Lutheran Service Book

Communion on 1st and 3rd

Sundays of the month.

Pastor: Rev. Robert W. Grimm

Email: pastorstjohnalma@gmail.com

Secretary: Marilyn Garrison

Email: stjohnalma@gmail.com

Website: stjohnalma.org/church/home.html

School email: schoolofficestjohnalma@gmail.com

Church: 765-3632

School: 765-3914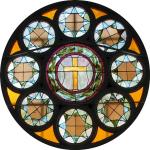 ST. JOHN LUTHERAN CHURCH

(The Lutheran Church - Missouri Synod)

Alma, Kansas

Friday - 8th

12:00pm      LWML Friendship Circle Xmas




Dinner in Memorial Hall
Sunday - 10th

8:30am

SS & Bible Class
9:30am

Divine Worship Service



Officer Installation
10:45am      Parish Nurse/ BP Check

2:30pm

Manor Service
7:00pm

Crossways Bible Class
Monday - 11th

12:00pm      Pray for Missions

7:00pm

School Board
Tuesday - 12th

6:15am

  Bible Breakfast @



  Frank's Plumbing


  Pastor's Conference @



St. Lukes, Manhattan
7:00pm

Choir
Wednesday - 13th

8:40am

Chapel
5:45pm

Advent Meal
6:00pm

Confirmation Class
7:00pm         Advent Service

Thursday - 14th

9:30am

Crossways Bible Class
1-3:00pm     Thrivent Representative

7:00pm

JuBellation
Saturday - 16th

6:05pm

Evening Communion Service
7:30pm

Movie "I am not ashamed"
Sunday - 17th

8:30am

Sunday School & Bible Class
9:30am

Communion Service
6:30pm

Children's Christmas Service
December

Sunday Ushers: Phillip Theel Team

Advent Ushers: Ron Bandel Team

Sunday Acolytes:  Kaci Meseke &




      Karli Meseke
Advent Acolytes:   Brooklyn Cruz





Danielle Murphy
Communion Assistants:

December 3:  Orville Altevogt &





Mervin Dehning
December 17: Don Frank

December 24:


4:00pm    Bernie Shepherd &



Brad Becker

7:00pm    Phillip Theel &



Randall Debler 
Altar Guild:    Kathy Cox &




JoAnn Meyer
We Invite You to Worship with Us!