This Week at a Glance

August 23, 2019 - September 1, 2019

Photo by Johnathan Walton (C) 2018

Thank you for visiting our web site. We strive to be faithful in sharing the message of God's love, grace and salvation in Christ Jesus. This web site allows us to reach people with information about us and about our Savior.

Please access the information about the church and let us be a resource for broadening your faith. May God lead you in His Word of Truth, to fill you with heavenly joy.

St. John is a family united by faith in Christ, gathering around God's Word and Sacraments. To reach out in Christ-like concern and Christ-borne love to each other and to those without Christ!

Worship Schedule

8:30 AM Sunday School

& Bible Class

9:30 AM Sunday Worship Service

Traditional Worship

using Lutheran Service Book

Communion on 1st and 3rd

Sundays of the month.

Phone: Church:  (785) 765-3632

          School:  (785) 765-3914

Pastor: Rev. Robert W. Grimm

Email: pastorstjohnalma@gmail.com

Secretary: Marilyn Garrison

Email: stjohnalma@gmail.com

Website: stjohnalma.org/church/home.html

School email: schoolofficestjohnalma@gmail.com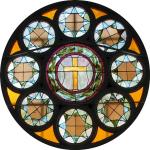 ST. JOHN LUTHERAN CHURCH

(The Lutheran Church - Missouri Synod)

Alma, Kansas

Friday - 23rd

1:30pm

LWML Friendship Circle
Sunday - 25th

8:30am

Parents, SS & Bible Classes
9:30am

Divine Worship Service
2:30pm

Manor Service
Monday - 26th

12:00pm      Pray for Missions

Tuesday - 27th

6:15am

Bible Breakfast @




Franks Plumbing
Wednesday - 28th

8:40am

Chapel
6:15pm

Confirmation Class Begins
7:00pm

JuBellation
Thursday - 29th

7:00pm

NLSA Kick-Off
Sunday - September 1st

8:30am

SS & Bible Classes
9:30am

Communion Service
August Worship Servants

Ushers: Phillip Theel Team

Acolytes: Alexus Ford &                                          Jori Ruhnke

Communion Assistants:

Auugust 4: Larry Ringel & Phillip Theel 

August 18: Dennis Theel

Altar Guild: Helen Holenbeck &    




Rose Debler
September Worship Servants

Ushers: Dennis Theel Team

Acolytes: Dalton Debler &                                          Izzabella Wright

Communion Assistants:

September 1: Orville Altevogt &




Randall Debler 
September 15: Bruce Schultz

Altar Guild: Erin Debler &    




Kara Mayer
We Invite You to Worship with Us!