ST. JOHN LUTHERAN CHURCH

(The Lutheran Church - Missouri Synod)

Alma, Kansas

A family united by faith in Christ gathering around God's Word and Sacraments.

To reach out in Christ-like concern and Christ-borne love to each other and to those without Christ!

In This Month's

St. John Witness

DECEMBER WITNESS

Theology for Today / Stephen Ministry

Stephen Ministry

What is Stephen Ministry?  Congregations equip lay caregivers to provide high-quality, confidential, Christ-centered care to people who are hurting or are experiencing grief, divorce, cancer, job loss, loneliness, disability, relocation, and other life difficulties. Stephen Ministers serve in a one to one relationship of trust, care, and Christ-like concern. If you think you  might benefit from having a Stephen Minister, please call Pastor Grimm, or talk with one of these servants of God. - Brad Becker, Don Frank, Charlie Gann, Judy Peddicord, Laura Stuewe, Junior Stuewe, Carol White.

If you would be interested in becoming a Stephen Minister, please contact Pastor Grimm.

Below is more information about the Stephen Series & Stephen MInistry.

Why is it called the Stephen Series?

Stephen was one of the first laypeople commissioned by the Apostles to provide caring ministry (Acts 6). Series describes the steps a congregation follows to implement the caring ministry system, which is commonly called Stephen Ministry.

How many congregations are using Stephen Ministry?

More than 11,000 congregations are enrolled, with hundreds more enrolling each year. They represent more than 150 denominations and come from all 50 United States, 10 Canadian provinces, and 24 other countries. Many congregations have had Stephen Ministry going strong for 20 or 30 years—or longer.

What size congregations are involved?

Stephen Ministry congregations range from fewer than 100 members to more than 10,000. Churches of any size have opportunities to care for hurting people in the congregation and community.

What are Stephen Ministers?

Stephen Ministers are laypeople who commit to two years of learning, growing, and caring. They receive Christian caregiving training in their congregation and then provide one-to-one Christ-centered care to hurting people. Each Stephen Minister typically has one care receiver at a time and meets with that person once a week.

What types of caregiving situations are Stephen Ministers used in?

Stephen Ministers provide high-quality, one-to-one Christian care to individuals facing a variety of crises or life challenges—people who are experiencing grief, divorce, cancer, financial difficulties, hospitalization, chronic illness, job loss, disabilities, loneliness, a spiritual crisis, or other life struggles.

In addition to caring for members within the congregation, Stephen Ministers can provide care to nonmembers, reaching out to unchurched people in crisis.

What are Stephen Leaders?

Stephen Leaders are pastors and lay leaders who direct Stephen Ministry in their congregation. They attend a one-week Leader's Training Course (LTC) where they learn how to effectively lead their congregation's Stephen Ministry.

What is the meaning of the logo?

The Stephen Series logo symbolizes that we are all broken people and that we are only made whole through the cross of Jesus.

Since 1975 nearly a half million Christian men and women from all walks of life have trained and served as Stephen Ministers in their congregations. Most decide to become Stephen Ministers as a way to help hurting people in their congregation and community—but very quickly discover that God gives them amazing blessings in return.

What do people say about Stephen Ministry?

"My faith has grown, my prayer life has doubled, and I know how to really make a difference in people's lives. I'd encourage anyone who has the chance to become a Stephen Minister."













George Lund, Architect












  Prairie Village, Kansas
"Being a Stephen Minister has taught me to rely on God instead of always trying to fix things myself. I've learned what to say, how to listen, and what to do during a crisis. It's a great feeling to provide people with the spiritual care and support they need."













  John Eichelberger, Physician












  Greenwood, South Carolina
"The assertiveness skills I learned through Stephen Ministry gave me the courage and confidence I needed to be a more effective supervisor in my secular job—and to be more assertive in my personal relationships. Thank you for helping me develop these vital skills."













  Elizabeth McMillion, Rehabilitation Counselor












  Madison, Wisconsin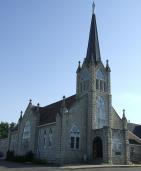 THEOLOGY FOR TODAY

Reformation 501

Basic information about the Reformation

The Protestant Reformation was the 16th-century religious, political, intellectual and cultural upheaval that splintered Catholic Europe, setting in place the structures and beliefs that would define the continent in the modern era. In northern and central Europe, reformers like Martin Luther, John Calvin and Henry VIII challenged papal authority and questioned the Catholic Church's ability to define Christian practice. They argued for a religious and political redistribution of power into the hands of Bible- and pamphlet-reading pastors and princes. The disruption triggered wars, persecutions and the so-called Counter-Reformation, the Catholic Church's delayed but forceful response to the Protestan

DATING THE REFORMATION

Historians usually date the start of the Protestant Reformation to the 1517 publication of Martin Luther's "95 Theses." Its ending can be placed anywhere from the 1555 Peace of Augsburg, which allowed for the coexistence of Catholicism and Lutheranism in Germany, to the 1648 Treaty of Westphalia, which ended the Thirty Years' War. The key ideas of the Reformation—a call to purify the church and a belief that the Bible, not tradition, should be the sole source of spiritual authority—were not themselves novel. However, Luther and the other reformers became the first to skillfully use the power.of the printing press to give their ideas a wide audience.

Did You Know?


No reformer was more adept than Martin Luther at using the power

of the press to spread his ideas. Between 1518 and 1525, Luther published

more works than the next 17 most prolific reformers combined.
THE REFORMATION: LUTHERANISM


Martin Luther (1483-1546) was an Augustinian monk and university lecturer in Wittenberg when he composed his "95 Theses," which protested the pope's sale of reprieves from penance, or indulgences. Although he had hoped to spur

renewal from within the church, in 1521 he was summoned before the Diet of Worms and excommunicated. Sheltered by Friedrich, elector of Saxony, Luther translated the Bible into German and continued his output of vernacular pamphlets.

When German peasants, inspired in part by Luther's empowering "priesthood of all believers," revolted in 1524, Luther sided with Germany's princes. By the Reformation's end, Lutheranism had become the state religion throughout much of Germany, Scandinavia and the Baltics.

THE 95 THESES

Committed to the idea that salvation could be reached through faith and by divine grace only, Luther vigorously objected to the corrupt practice of selling indulgences. Acting on this belief, he wrote the "Disputation on the Power and Efficacy of Indulgences," also known as "The 95 Theses," a list of questions and propositions for debate. Popular legend has it that on October 31, 1517 Luther defiantly nailed a copy of his 95 Theses to the door of the Wittenberg Castle church. The reality was probably not so dramatic; Luther more likely hung the document on the door of the church matter-of-factly to announce the ensuing academic discussion around it that he was organizing.

The 95 Theses, which would later become the foundation of the Protestant Reformation, were written in a remarkably humble and academic tone, questioning rather than accusing. The overall thrust of the document was nonetheless quite provocative. The first two of the theses contained Luther's central idea, that God intended believers to seek repentance and that faith alone, and not deeds, would lead to salvation. The other 93 theses, a number of them directly criticizing the practice of indulgences, supported these first two.

THE REFORMATION'S LEGACY

Along with the religious consequences of the Reformation and Counter-Reformation came deep and lasting political changes. But the Reformation's positive repercussions can be seen in the intellectual and cultural flourishing it inspired on all sides of the schism—in the strengthened universities of Europe, the Lutheran church music of J.S. Bach, the baroque altarpieces of Pieter Paul Rubens and the capitalism of Dutch Calvinist merchants, and the education systems we see in use today.

from: http://www. history. corn/topics/reformation