ST. JOHN LUTHERAN CHURCH

(The Lutheran Church - Missouri Synod)

Alma, Kansas

A family united by faith in Christ gathering around God's Word and Sacraments.

To reach out in Christ-like concern and Christ-borne love to each other and to those without Christ!

Prepare yourself to bring your best to God. Not simply your offerings, but also your heart.

Honor and worship God by Bible study, prayer, meditation and deeds of faith.

Date        Bible Text

          Theme



        Hymns   




Order of Worship
4-3-19      Exodus 12:3-7

     Signs of Lent: Merge

    431– tune 423–Choir–433


     Prayer,  p. 297


4-7

  Phil 3:8-14


   The Upward Call of God

425–756–730–642–661-660


   DS 2, page 167
4-10

Proverb 14:12


Signs of Lent: Dead End

440–tune 423–432–421



  Prayer, p. 298
4-14

Deut. 32:36ff


  No God besides Me

     837–444–623-433-420-442–443

    DS 2, page 167

4-18

I Cor. 11:23-29

     Signs of Lent: Food

     436–tune 423–435-634-732–433

    DS 2, page 167
4-19

Isaiah 53:4-6


  Signs of Lent: Intersection    420–tune 423-450-448-452-878


Litany, page 288

4-20

Acts 8:36


     Signs: High Water


437–tune 423-438-453-433-427


Vigil, Altar Book
4-21

I Cor.15:51-57


Signs: Construction Ahead   456-463–468-tune 423–474


    Prayer & Preaching, 260
4-21

Is. 66:17-25


  How Long to Live?


480–605–633-619-461-556–457

    DS 1, page 151
4-28

Acts 5:12-20


Words of Life



467–Wonderful Words–827-463

     Matins, page 219
In This Month's

St. John Witness

APRIL WITNESS

Spiritual Growth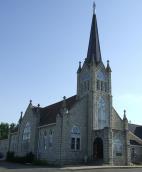 HOLY WEEK is from Palm Sunday through Easter Day. It is the highlight of the church year as we celebrate the life and death of Christ, and its implications for us. We have junior confirmation on Palm Sunday, with processional communion. We have altar communion with the chalice only on Maundy Thursday. We remember Christ's death on Good Friday. We do an Easter Vigil with candles on Holy Saturday (including baptism), and we celebrate life with Christ on Easter Sunday, at 7 and at 9:30.

LENTEN SUPPERS AND SERVICES will be held Wednesday evenings April 3 and 10. Following supper from 5:30-6:30, we will have services of prayer, each looking at a different aspect of our God's grace, revealed in signs of Lent. Meals before our evening services are hosted by various groups in the congregation. On Easter, there will be an Easter breakfast by the youth between services.

EVENING WORSHIP will be Saturday, April 20th, at 6:05 pm. All are welcome to come and join God's people in worship, especially if Sunday must be a workday.

ELECTRONIC EARPHONES, are available for use to help hearing in the sanctuary. If you need help, please see an usher before the service begins.

CONFIRMATION: "Train up a child in the way that he should go, and when he is old, he will not depart from it." This year's junior confirmands are:





Shawn Matthew Becker


John 3:16




James Edward MacGregor

   Joshua 1:9




Shaylea Nichole McIntyre

     II Peter 3:18




Jacob Francis Dean Meseke

Revelation 2:10




Ashley Kristine Piper


    John 10:27-28




Colby Lee Schley



Hebrews 13:5




Annalesa Jean Wright


  Ephesians 2:8, 9
Aaren Becker will be baptized and confirmed April 20 at the Easter Vigil (Revelation 2:10).


LUTHERANS FOR LIFE are faithful volunteers who help to set up displays in churches or at conferences, give presentations on LFL programs and ministries, plan educational programs and events, organize others to help man LFL booths at conventions, conferences, events ... and witness quietly in their areas. Since we don't have a local chapter in our area, perhaps God is calling you to start one! State Leaders will join us at St. Luke's Manhattan April 28 to share information about local chapter activities!

2020 VISION: IT'S STILL ABOUT JESUS.  Our first 150th Anniversary event will be May 26, 2019.  We invited Rev. Dr. Benjamin Mayes, of Concordia Theological Seminary, to preach on our Anniversary Bible Theme from Mark10:46-52. We invite people to join us for a community meal after worship.