ST. JOHN LUTHERAN CHURCH

(The Lutheran Church - Missouri Synod)

Alma, Kansas

A family united by faith in Christ gathering around God's Word and Sacraments.

To reach out in Christ-like concern and Christ-borne love to each other and to those without Christ!

Prepare yourself to bring your best to God. Not simply your offerings, but also your heart.

Honor and worship God by Bible study, prayer, meditation and deeds of faith.

Date        Bible Text

      Theme



        Hymns   




Order of Worship
12-2

  I Thess. 3:9-12

Blameless in Holiness

   350–334–628-357-389*-333


  DS 3, page 184
12-5

  Luke 1:69-79

  Prayer of Zecharias


331–770–341





RP, page 282
12-9

  Luke 3:1-14

    John's the Baptist


  344*-346–833–924



      DS 3, page 184
12-12

Luke 1:46-50

  Prayer of Mary



359–412–361 




     RP, page 285
12-16

Philippians 4:4-7      Joy Guards the Heart

    349–343–347-387-636-386


   DS 3, p. 184

12-16

SJLS Children's Christmas Service



379-361–367–380–364–368-387
12-19

Luke 2:29-32

   Prayer of Simeon


  333–344*–365




      RP, page 282
12-13

Hebrews 10:5-10      Come to Do God's Will

  352–284–353–388




DS 3, p. 184

12-24

Titus 2:11-14

   Salvation for All


     379–354–380-358-363-387


   DS 5, p. 213
12-25

Titus 3:4-7


The Goodness of God

  383–385–370-363-621–392


   DS 4, page 203
12-30

A Service of Carols and Readings



  366-393-386-374-379-363-368-373-388  
12-31

Isaiah 30:8-17

  The Signal (Rev. Vossler)      367–899–376–390




  EP, page 243
In This Month's

St. John Witness

DECEMBER WITNESS

Spiritual Growth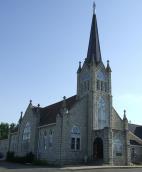 CHRIST IS COMING! Being ready to meet God seems like a daunting challenge, yet over and over, we hear the words, "Do not be afraid!" We are blessed to serve God in holiness and righteousness because of Jesus Christ, We trust Him to work within us, and to be ready for His final coming and our heavenly home.

PRAYER is the voice of God's people with God. Our midweek series will focus on prayers of God's people, and help us to each pray with trust, with joy, and with thanksgiving..

THREE SEASONS CONCERT: St. John Lutheran Church will host the 16th annual concert of local church choirs on Sunday, December 2. A door offering (either canned goods or cash) will be taken to support Community Health Ministries. A soup supper will follow the concert, by Teens for Christ.

INSTALLATION OF OFFICERS will be December 9. Both newly elected and sitting officers are asked to come forward that we may pray for God's blessings upon them and the work of Christ in His church at St. John.

EVENING WORSHIP will be Saturday, December 15th, at 6:05 pm. All are welcome to come and join God's people, especially if Sunday must be a workday.

INVITE A FRIEND! Americans are much more likely to attend church at Christmastime. When asked the question: "If someone you know invited you to attend church with them at Christmas, how likely would you be to attend?" Over half (57 percent) of respondents said they'd be likely to come, reports  LifeWay Research. Think about how much more compelling the gospel message is coming from someone you already know and trust. Who are you more likely to listen to - a stranger on the street handing you a flier telling you to come to church or a friend who's known you all your life and walked with you through thick and thin? This holiday season, I encourage you to find ways to reach out to unbelievers and infrequent churchgoers in your circles- invite them to join you at church

CHRISTMAS CAROLING will be December 20. We will leave church at 6:00pm. All are welcome to come sing with us at the Alma Manor and at homes of homebound members. A supper will be provided to singers after we have sung.

DOOR OFFERINGS: On Sunday, December 2nd , we take up a door offering for the Christmas Stocking fund. On Christmas Eve, the door offering will be for Lutherans for Life. May God bless all the babies He creates, so they may grow to know and love Him just as He loves them.

YOUR HOUSE, OUR HOME. The parsonage Open House will be January 6, 2019. Let's celebrate Epiphany this year!