ST. JOHN LUTHERAN CHURCH

(The Lutheran Church - Missouri Synod)

Alma, Kansas

A family united by faith in Christ gathering around God's Word and Sacraments.

To reach out in Christ-like concern and Christ-borne love to each other and to those without Christ!

Prepare yourself to bring your best to God. Not simply your offerings, but also your heart.

Honor and worship God by Bible study, prayer, meditation and deeds of faith.

Date        Bible Text

          Theme



                    Hymns   



         Order of Worship
8-2

  Matt. 14:13-21

A time of mourning

           732 – 762 – 570-628-435-865 - 770       Divine Service 1, p. 151
8-9

Psalm 34:4-8

  Five senses to know God          835 – 490 – 765 – 662



  Prayer & Preaching, 260
8-15       Matthew 15:21-28    Great is your faith                    801 – 729 – 630-640-905-602*-809

Divine service 1, p. 151
8-22       Matthew 16:13-20    Built upon a Rock

            727 – 524 – 575 - 72



   Prayer & Preaching, 260
8-29       Matthew 16:21-28    Take up your cross                   460 – 561 – 578 – Te Deum – 427

Matins, page 218
In This Month's

St. John Witness

AUGUST WITNESS

Spiritual Growth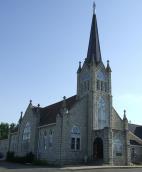 THE PENTECOST SEASON reflects God work within us. We bear fruit for his kingdom to bless His church. The liturgical color is green, a color of vibrant growth. The Scripture readings and hymns emphasize how God is equipping us for service!

CHURCH SERVICES will remain online on FaceBook (https://www.facebook.com/lutheran.church.1650)

and FM radio 88.3 until it is wise to host a full sanctuary. We will continue two services each weekend, Saturday evening/Sunday morning. May God's name be spoken, heard, trusted, and shared! You may tell your friends to join us.

GUEST PREACHER: Our next 150th Anniversary celebration will be with Rev. Justin Panzer, President of the Kansas District LCMS. He will preach Saturday evening and Sunday morning September 5-6. .

KANSAS IS CONSIDERED A HOTSPOT OF COVID 19.  "Wearing a mask is necessary to avoid another shutdown," Governor Kelly said. "We now have enough data to prove that masks work," the governor said. Therefore, St. John will continue to encourage the use of masks when we enter the building as we perform a quick health check, and as desired by individuals during worship. We continue to practice social distancing in the sanctuary as we sit, and be considerate of others throughout the building.

SUNDAY SCHOOL will begin anew this fall. Watch for details. Sunday School in August will be continued by mailings to students.

PLEASE CALL when you desire a pastoral visit. While there are some limitations we may have from hospitals and nursing homes, individuals can find ways to gather in homes or in small groups without compromising health and physical well-being.

BIBLE CLASSES: We will continue to do a Live Stream of Lifelight Study of the Gospel of Matthew on Thursday morning at 9:30. (https://www.facebook.com/lutheran.church.1650) Students who wish to join in discussion may come into Memorial Hall and sit independently at tables there at 10:30am as we go through materials from our worksheets. We will also Zoom the questions and answers for those who cannot attend.

COMMUNION IN AUGUST:  We have some challenges during the restricted time of dealing with COVID 19, but we have the Gospel to share. We plan to offer communion both inside the sanctuary and outside the sanctuary for the foreseeable future. Drive-through communion between church and school, as well as processional communion in-house will be distributed at the August 1-2 (and August 15/16) Divine Services. Both individual and common cup (wiped by a highly distilled alcohol between each parishioner) will be offered by assistants wearing masks and nitrile gloves during this epidemic. The outdoor procession will be with people in their vehicles. When we are ready to distribute communion, people will enter the driveway between church and school from the south, traveling north, and have pastor and elders distribute communion to those who wish to receive it. Along the way, people may place offerings into the offering plate on the drive. After communing, people shall then drive their vehicles out the drive. You may park within range of our FM signal to receive the communion blessing and the Aaronic blessing.

    The manner of Communion Distribution on August 15/16 will be the same.