ST. JOHN LUTHERAN CHURCH

(The Lutheran Church - Missouri Synod)

Alma, Kansas

A family united by faith in Christ gathering around God's Word and Sacraments.

To reach out in Christ-like concern and Christ-borne love to each other and to those without Christ!

December 2





"Reality Therapy"
Speaker: Rev. Dr. Michael Zeigler

The book of Ruth deals with unimportant people and unimportant matters, but deals with them in such a way as to show that God is active in ordinary lives-like yours and mine.







(Ruth 1-2)
December 16


    "In Anxious Times - Rejoice!"
Guest Speaker: Rev. Dr. Anthony (Tony) Cook

While there are many helpful ways to cope with society's increasing anxiety, Paul points us to a frequently overlooked source of joy and peace, God's grace in Christ.   (Phil. 4:4-7)

December 30




     "A Long Good-Bye"
Guest Speaker: Dr. Dean Nadasdy

Jesus Christ has assured us that He is your hope. His grace is more than sufficient to take us into another year and give us peace.






   (Luke 2:27-32)
In This Month's

St. John Witness

DECEMBER WITNESS

The Lutheran Hour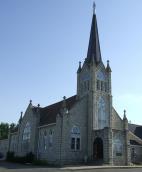 THE LUTHERAN HOUR® radio program proclaims the salvation story of Jesus every week on more than 1,350 stations, on satellite radio, on the American Forces Network, and over the Internet.


Station

City


   Frequency


  Day

   Time
KJRL

Herington

     105.7 FM


    Sun

10:30 AM
KLWN

Lawrence


1320 AM    


Sun

  8:30 AM
KNDY

Marysville


1570 AM


    Sun

12:30 PM
KJTY

Topeka


    88.1 FM


    Sun

  6:30 PM
WIBW      Topeka


  580 AM


Sun

  7:30 AM
December 9


       "Redeemer with a Capital R"
Speaker: Rev. Dr. Michael Zeigler

In the story of Ruth, Boaz is a "kinsman redeemer," who points to Jesus, our capital-r-Redeemer. He redeems by bringing us into his clan, his household, that we might be with him forever.           





(Ruth 3-4)
December 23


                 "The King's Strength"
Speaker: Rev. Dr. Michael Zeigler

We celebrate the birth of the King who won the victory, not by taxing his subjects and killing his enemies, but by serving, loving and dying for them.

        (Luke 1:26-56 )
"Anyone who is to find Christ must first find the church. How could anyone know where Christ is and what faith is in him unless he knew where his believers are?"   

Martin Luther

DEFENDING THE FAITH, teaching the truth... Issues, Etc. is a talk radio show hosted by LCMS Pastor Todd Wilken and produced by Lutheran Public Radio. Listen to what you want, when you want at www.issuesetc.org.

THEOLOGICAL STUDIES by our Synod are at:

http://www.lcms.org/pages/internal.asp?NavID=503

Also check the Web at: www.lutheranhour.org.

Daily devotions: www.lhm.org/dailydevotions.asp.