ST. JOHN LUTHERAN CHURCH

(The Lutheran Church - Missouri Synod)

Alma, Kansas

A family united by faith in Christ gathering around God's Word and Sacraments.

To reach out in Christ-like concern and Christ-borne love to each other and to those without Christ!

November 3                         

     "Stranger Danger"
Speaker: Rev. Dr. Michael Zeigler

Genesis Series - The different ways we relate to strangers reveal the contradiction of being human.            (Genesis 18)

November 17                   

           "The Dawn Wall"
Speaker: Rev. Dr. Michael Zeigler

Genesis Series - Sacrifice is acting on the hope of a better future by offering up something valuable in the present.










(Genesis 22)
In This Month's

St. John Witness

NOVEMBER WITNESS

The Lutheran Hour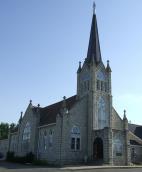 THE LUTHERAN HOUR® radio program proclaims the salvation story of Jesus every week on more than 1,350 stations, on satellite radio, on the American Forces Network, and over the Internet.


Station

City


   Frequency


  Day

   Time
KJRL

Herington

     105.7 FM


    Sun

10:30 AM
KLWN

Lawrence


1320 AM    


Sun

  8:30 AM
KNDY

Marysville


1570 AM


    Sun

12:30 PM
KJTY

Topeka


    88.1 FM


    Sun

  6:30 PM
WIBW      Topeka


  580 AM


Sun

  7:30 AM
November 10                       "For Such a Downer"

Speaker: Rev. Dr. Michael Zeigler

Genesis Series - The cross of Jesus is not a downer, but it is an equalizer. If you think you're up on top and you're pushing others aside, the cross of Jesus will bring you down. And if you're down and desperate for some company, you have a friend in the crucified Jesus.


  (Genesis 21)
November 24                                

   "God Is Love"
Guest Speaker: Pastor Jeff Cloeter

(1 John 4:7-12)

I have held many things in my hands,

and I have lost them all;

but whatever I have placed in God's hands,

that I still possess.

Martin Luther

DEFENDING THE FAITH, teaching the truth... Issues, Etc. is a talk radio show hosted by LCMS Pastor Todd Wilken and produced by Lutheran Public Radio. Listen to what you want, when you want at www.issuesetc.org.

THEOLOGICAL STUDIES by our Synod are at:

http://www.lcms.org/pages/internal.asp?NavID=503

Also check the Web at: www.lutheranhour.org.

Daily devotions: www.lhm.org/dailydevotions.asp.