ST. JOHN LUTHERAN CHURCH

(The Lutheran Church - Missouri Synod)

Alma, Kansas

A family united by faith in Christ gathering around God's Word and Sacraments.

To reach out in Christ-like concern and Christ-borne love to each other and to those without Christ!

February 3                                             "Slow Solution"

Speaker: Rev. Dr. Michael Zeigler

God's gift of eternal life through faith in Christ is not a quick fix. It's a slow solution to the hidden problem that separates us from God and each from other.                     (John 20:21)

February 17                                         "Enter His Labor"

Speaker: Rev. Dr. Michael Zeigler

What would you do if your Word was all-powerful? Jesus started a conversation with an outsider.            (John 4:1-42)

In This Month's

St. John Witness

FEBRUARY WITNESS

The Lutheran Hour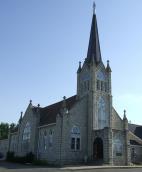 THE LUTHERAN HOUR® radio program proclaims the salvation story of Jesus every week on more than 1,350 stations, on satellite radio, on the American Forces Network, and over the Internet.


Station

City


   Frequency


  Day

   Time
KJRL

Herington

     105.7 FM


    Sun

10:30 AM
KLWN

Lawrence


1320 AM    


Sun

  8:30 AM
KNDY

Marysville


1570 AM


    Sun

12:30 PM
KJTY

Topeka


    88.1 FM


    Sun

  6:30 PM
WIBW      Topeka


  580 AM


Sun

  7:30 AM
February 10                       "Where Heaven Meets Earth"

Speaker: Rev. Dr. Michael Zeigler

Hitting that snooze button may be doing more harm than good. It's time to stop spiritual snoozing and wake up.

                                                                    (John 3:1-21)

February 24                                   "Not by Bread Alone"

Speaker: Rev. Dr. Michael Zeigler

There is a spiritual hunger beyond food that is expressed in food. Jesus provides for both.                           (John 6:1-29)

"To gather with God's people in united

adoration of the Father is as necessary

to the Christian life as prayer."   

Martin Luther

DEFENDING THE FAITH, teaching the truth... Issues, Etc. is a talk radio show hosted by LCMS Pastor Todd Wilken and produced by Lutheran Public Radio. Listen to what you want, when you want at www.issuesetc.org.

THEOLOGICAL STUDIES by our Synod are at:

http://www.lcms.org/pages/internal.asp?NavID=503

Also check the Web at: www.lutheranhour.org.

Daily devotions: www.lhm.org/dailydevotions.asp.