ST. JOHN LUTHERAN CHURCH

(The Lutheran Church - Missouri Synod)

Alma, Kansas

A family united by faith in Christ gathering around God's Word and Sacraments.

To reach out in Christ-like concern and Christ-borne love to each other and to those without Christ!

October 3           "Approval Cannot Equal Love"



Speaker: Rev. Dr. Michael Zeigler
God places Christians in neighborhoods, among neighbors who don't necessarily share their beliefs. How should they relate? Dr. Michael Zeigler talks about avoiding the pitfalls of isolation and approval. (1 Corinthians 10:23-11:1)

October 10                "Giving God Our Garbage"



Guest Speaker: Dr. Harold Ristau
Everything belongs to God and there isn't anything anyone could possibly give Him that He doesn't already have. And yet, there is one thing He desires: our garbage—our sins, our shame, our guilt—that He might put it all on Jesus. (1 Samuel 2:1-10)

In This Month's

St. John Witness

OCTOBER WITNESS

The Lutheran Hour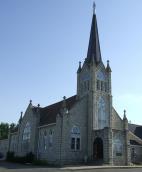 THE LUTHERAN HOUR® radio program proclaims the salvation story of Jesus every week on more than 1,350 stations, on satellite radio, on the American Forces Network, and over the Internet.


Station

City


   Frequency


  Day

   Time
KJRL

Herington

     105.7 FM


    Sun

10:30 AM
KLWN

Lawrence


1320 AM    


Sun

  8:30 AM
KNDY

Marysville


1570 AM


    Sun

12:30 PM
KJTY

Topeka


    88.1 FM


    Sun

  6:30 PM
WIBW      Topeka


  580 AM


Sun

  7:30 AM
October 17                          "Dead Man, Walking"



Speaker: Rev. Dr. Michael Zeigler
The Old Testament books of Samuel tell the story of Israel's King David and share the promise of the greater King to come. (1 Samuel 3:18)

October 24                                  "He will Take It"



Speaker: Rev. Dr. Michael Zeigler
Dr. Zeigler helps us to see God's wrath within the bigger story of God's love.  (1 Samuel 15)

October 31                            "Not How, but Who"



Speaker: Rev. Dr. Michael Zeigler
                           (1 Samuel 17:37)

"FAITH MUST TRAMPLE UNDER FOOT ALL REASON, SENSE, AND UNDERSTANDING."

Martin Luther

DEFENDING THE FAITH, teaching the truth... Issues, Etc. is a talk radio show hosted by LCMS Pastor Todd Wilken and produced by Lutheran Public Radio. Listen to what you want, when you want at www.issuesetc.org.

THEOLOGICAL STUDIES by our Synod are at:

http://www.lcms.org/pages/internal.asp?NavID=503

Also check the Web at: www.lutheranhour.org.

Daily devotions: www.lhm.org/dailydevotions.asp.