ST. JOHN LUTHERAN CHURCH

(The Lutheran Church - Missouri Synod)

Alma, Kansas

A family united by faith in Christ gathering around God's Word and Sacraments.

To reach out in Christ-like concern and Christ-borne love to each other and to those without Christ!

April 7

          "The Darkness Has Not Overcome It"
Speaker: Rev. Dr. Michael Zeigler

God works through the darkness to overcome the darkness. Even in history's darkest moment, the light is still shining.                             





  (John 12:37-50)
April 21





"Cross in the Garden"
Speaker: Rev. Dr. Michael Zeigler

God is the true Gardener. He brought the soil of His garden into His being to make a new creation.     (John 19:30-20:18)

In This Month's

St. John Witness

APRIL WITNESS

The Lutheran Hour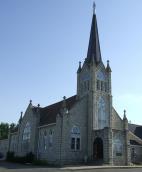 THE LUTHERAN HOUR® radio program proclaims the salvation story of Jesus every week on more than 1,350 stations, on satellite radio, on the American Forces Network, and over the Internet.


Station

City


   Frequency


  Day

   Time
KJRL

Herington

     105.7 FM


    Sun

10:30 AM
KLWN

Lawrence


1320 AM    


Sun

  8:30 AM
KNDY

Marysville


1570 AM


    Sun

12:30 PM
KJTY

Topeka


    88.1 FM


    Sun

  6:30 PM
WIBW      Topeka


  580 AM


Sun

  7:30 AM
April 14



       "He Loved Them to the End"
Speaker: Rev. Dr. Michael Zeigler

We are people of diverse backgrounds drawn together by Jesus. We want to share His life with you. (John 13:18-19)

April 28


     "Disturbing Cognitive Dissonance"
Speaker: Rev. Dr. Michael Zeigler

Doubt is a normal part of our present human experience. Only the presence of the risen Jesus will overcome it.








(John 20:19-31)
"Our Lord has written the promise of

resurrection, not in books alone, but

in every leaf in springtime."   

Martin Luther

DEFENDING THE FAITH, teaching the truth... Issues, Etc. is a talk radio show hosted by LCMS Pastor Todd Wilken and produced by Lutheran Public Radio. Listen to what you want, when you want at www.issuesetc.org.

THEOLOGICAL STUDIES by our Synod are at:

http://www.lcms.org/pages/internal.asp?NavID=503

Also check the Web at: www.lutheranhour.org.

Daily devotions: www.lhm.org/dailydevotions.asp.